Attention Kidney Stone Sufferers!
Do you want freedom from kidney stone pain?
If you answered "Yes" to this question, then you must read about the amazing discovery that has helped me get rid of my kidney stones painlessly and forever.

My name is Mark Pescatrice and I suffer from kidney stones. In fact, I've passed over 30 kidney stones in the past 13 years. If you are reading this, I'm guessing that you or someone you love is suffering from kidney stones right this minute. I'm here to tell you that you don't have to suffer from kidney stone pain ever again.
Kidney stones rob us of our freedom. They take us away from our families, from our work, and from the things we love to do. They cost us thousands or tens of thousands of dollars in medical expenses. They cost us lost wages. And they hurt like nothing else.

I have given birth to three children without drugs, and none of those were as painful as passing a kidney stone.

- Lucy Ramos
You can be free of kidney stone pain forever. Give me a few minutes of your time and I will tell you:
The secret to long term kidney stone relief that your doctor doesn't want you to know about
Why changing your diet rarely prevents kidney stones
Why home remedies aren't a long term solution to kidney stones
How to eliminate kidney stone pain quickly, prevent new stones from forming, and regain your freedom, all without drastic changes to your diet or lifestyle

According to The Lancet, one of the world's leading medical journals, if you have kidney stones or have had them in the past, there is an 75% chance you will have another one.
(Source: The Lancet, 2006; 367: 333–44)
It all begins with a story…
My first kidney stone knocks me out
I got my first kidney stones over 13 years ago. I was very active, cycling regularly and eating a healthy diet. One morning I went to work, feeling nauseous. Within half an hour, I was on the floor, in excruciating pain in my side. Through a blur of pain, I somehow found a way to drive home. The pain got so bad, I was starting to see colors flashing before my eyes. Pain radiated throughout my torso, from my neck to my groin. After a day of this kind of pain, I visited my doctor and he told me that I probably had kidney stones. He gave me narcotic pain killers, told me to drink lots of water, and referred me to a urologist. The pain continued for days before it subsided and I was able to return to work.
"You will always have kidney stones."
Isn't it fun to visit the urologist? Just about anything they do to you is likely to be painful, embarrassing, or both. They really want to see what's going on inside of us and there are generally only a few ways to do that, if you know what I mean. My urologist did an IVP (intravenous pyelogram) and discovered that lo and behold, I had medullary sponge kidney or MSK for short. I also had an 8 mm kidney stone lodged in my kidney. MSK means that I have an area of my kidney that is ideal for creating kidney stones, or as I like to say, a kidney stone factory.
He informed me that:
MSK was not going to kill me, and all things being equal I'd live to a ripe old age
I could look forward to a lifetime of kidney stones
I should never go without health insurance
Well that was reassuring. Furthermore, he didn't do anything else other than:
Prescribe more highly addictive narcotic pain killers
Told me to drink lots of water
Instructed me to avoid tea, spinach, chocolate, and nuts
That was it?!? He might as well have said, 'See you real soon!' As you can imagine, I was angry and determined never see him again.

Did you know that the average cost of kidney stone removal by lithotripsy is $17,400?
(Source: http://newchoicehealth.com)
Changing diet does nothing
I vowed to do whatever it took to prevent another episode. I am a very active person and I don't like to be kept down. I also lost a week of work with no pay, since my company didn't offer sick leave. I avoided the foods I was told, and drank a lot of water. Eventually the stones passed and we were able to determine that I had the most common kind of stones: calcium oxalate.
I did a lot of research on kidney stones and what not to eat. The information was often contradictory, even coming from reliable sources such as the National Institutes of Health, Harvard Medical School, and the Kidney Foundation.
Eat more fruit and vegetables
Don't eat anything green or red, i.e. fruits and vegetables
Consume more vitamin C
Consume less vitamin C
Eat oranges
Don't eat oranges
Avoid salt, sugar and flour (good luck doing that in America!)
Eat more whole grains
Eat less whole grains
Avoid dairy products
Eat/drink dairy products
Avoid protein
Avoid carbohydrates
In the end I got frustrated and just avoided the high oxalate foods that were in my diet, primarily peanuts, almonds, spinach, and black tea I also limited foods high in calcium, such as cheeses. Despite all of this, I got another kidney stone. Vomiting, extreme pain, and prescription narcotic pain killers were getting to be a way of life for me. I refused to go back to the doctor and drank copious amounts of water until it passed.
I started tweaking my diet by adding magnesium citrate supplements and mega doses of vitamin B-6 to my diet. I tried nearly combination of food, drink and supplement, but nothing worked. My diet was becoming increasing restrictive, to the point where I would sit down in a restaurant and try and figure out if I could eat anything on the menu. And despite all of this effort, I continued to get kidney stones!
Then I realized the painful truth: Changing your diet rarely prevents kidney stones.
Changing your diet may postpone your next kidney stone, but it doesn't prevent them. It doesn't work because there are so many different things happening in our bodies that it is nearly impossible to create a diet to prevent kidney stones. Extreme micromanagement of your diet might work for some people, but who wants to live like that?
Home remedies don't work
You know as well as I do, that when your pain is reaching 8 on the 1-10 pain scale, you will do just about anything to relieve the pain. In 2004, I was a thousand miles away from home working with a customer and I got yet another kidney stone.
Having no other option, I jumped on the Internet and start searching for remedies. I found a 'special report' on a kidney stone remedy that supposedly never failed. Being in pain and having nothing but mega-doses of ibuprofen for relief, I shelled out $30 for the report. I was told to drink 3 ounces of lemon juice mixed with 3 ounces of olive oil. I am not making this up! This is an actual page from the report:

It was so disgusting, I could barely swallow it and it made me want to vomit. But the pain was so incredible that I forced myself to drink this, three times a day for a week. It didn't work. They had my money and I still had my kidney stones. After a week, the pain subsided, but I didn't pass any stones.
So I did more research about these 'special reports'. I discovered that yhey are all common home remedies that are being sold at high prices to take advantage of people at their weakest moments, when they are in crippling pain. All of the information is readily available on the Internet for free if you look hard enough and I've tried all of them. (If you order Clear Kidneys today, I will give you all of these home remedies, a $50 value, absolutely free.)
Here is a list of the most common home remedies:
Olive Oil and Lemon Juice
Asparagus and Coca-Cola (the basis of Joe Barton's Kidney Stone Report, currently being sold at $39.97)
Apple Cider Vinegar
Baking soda
Lemons
Distilled Water
Mega-doses of ibuprofen (Advil, Motrin) – 600-800mg dosing
And any combination of the above
Some of them work for some people, to some degree, some do not. How do they work? They generally are upsetting the chemical balance of your urinary tract, in most cases raising the pH levels of your urine. Some of them can be toxic or even deadly if improperly used!
Do they relieve pain? No, not until the stones are gone. And it doesn't last long. Trust me, I'm the Human Guinea Pig when it comes to kidney stones.
The 5 Reasons Why Home Remedies Do Not Provide Lasting Relief from Kidney Stones
1.

You cannot use them long term, without drastically affecting your health, with the exception of distilled water. Depending on the remedy they can damage teeth, burn your stomach lining, cause ulcers, and cause painful gas and bloating.

2.

Some of them require consumption of large amounts of things that you should not be consuming, like Coca-Cola or baking soda, which puts additional stress on your body and can hospitalize or even kill you.

3.

Large doses and long term use of ibuprofen can lead to bleeding of the stomach

4.

They do not relieve pain immediately, contrary to their claims.

5.

Most importantly…none of them prevent new kidneys stones from forming.
Discovery of a miraculous plant
I can only describe this discovery as nothing short of miraculous. I had already consigned myself to a life of kidney stones. That is when I met my future mother-in-law, Ingrid. She was Brazilian by birth and had suffered many times with kidney stones.
Chanca Piedra(Spanish, 'stone breaker')
Quebra Pedra (Portuguese)
Bhumy Amalaki (Asian Indian)
Shatter Stone
Hurricane Weed
Gale of Wind Weed
She used a home remedy that is common throughout South America, a simple herb that can be found in nearly every drugstore in Brazil: quebra pedra, which translates to stone breaker. It is called stone breaker because of it's ability to dissolve kidney stones.
When we first met, I told her about my kidney stones and we discussed this herb. I did some research on this and I was able to find some of the dried plant for sale. I ordered a half pound. It was a bag of sticks and small leaves, and if I didn't know better I would have guessed that someone just went for a hike and picked up some plants they found.
My next kidney stone came soon enough, with a stabbing pain in my right side, with moderate pain of about 6 on a scale of 1 to 10. I brewed some of this quebra pedra as tea, about 2 cups worth, and drank it. It tasted horrible, bitter, and slimy. But, within an hour I was peeing like crazy and within two hours, I was pain free. I was peeing out a slurry of what looked like sand, but there was no pain like I had when passing other stones.
I had found the solution. This was the beginning of Clear Kidneys.
So how does this 'miracle' plant work?
I have spent the hundreds of hours researching and compiling data, reading scientific studies, and determining why this plant works so well. Without getting too technical, there are at least 25 different amino acids, anti-oxidants, flavonoids, and other phytochemicals that have been identified in phyllanthus niruri.
In summary, these studies have established that Phyllanthus niruri:
Delivers more potent pain relief than morphine for inflammation, as experienced with kidney stones. 3 times more powerful in fact!
Relaxes the smooth muscles in the urinary tract and calms violent spasms (colic), the cause of most pain in kidney stone patients.
Acts as a diuretic, allowing fluid to move quickly through the urinary tract, taking along stones, stone fragments, and gravel.
Dissolves existing stones into smaller fragments and smooths existing stones.
Reduces levels of calcium in the urine, which means there is less calcium for calcium oxalate and calcium phosphate stones to form.
Neutralizes uric acid in the urine, the cause of both uric acid stones and gout.
Is non-toxic at incredibly high doses, the equivalent of taking several bottles of Clear Kidneys at once!
These effects of phyllanthus niruri have been proven in over 300 studies. I have personally read and reviewed over 50 of these studies directly related to kidney stones and these all confirm that it works.

According to one study, phyllanthus niruri provides pain relief 3 times more effective than morphine!
(Source: Santos, A. R., et al. Further Studies on the Antinoceceptive Action of the Hydroalcoholic Extracts from Plants of the Genus Phyllanthus.
Journal of Pharmacy and Pharmacology 47 (1995): pp. 66-71.)
The pain relieving power of phyllanthus niruri has been proven in a number of clinical studies. It has been found to be 7 times more effective than aspirin and acetaminophen and 3 times more powerful than morphine, particularly against the type inflammatory pain experienced by kidney stone sufferers.
The best part about phyllanthus niruri is that it is non-addictive and non-habit forming. It has no side effects of any kind.
Would you trade a prescription drug addiction for kidney stones? I wouldn't and I'm certain you wouldn't either.
From my experience, I used to consume large amounts of ibuprofen (Advil, Motrin), 3-4 tablets at a time. I would buy ibuprofen by the warehouse club pack several times per year. In the past year of taking Clear Kidneys, I have not needed to take ibuprofen at all.
I'm a Freak
I admit it. I am a freak, thanks to MSK. Throughout the countless hours of searching for relief from my kidney stones, I realized that I could create kidney stones at will. The formula for creating kidney stones, in my case, is very simple: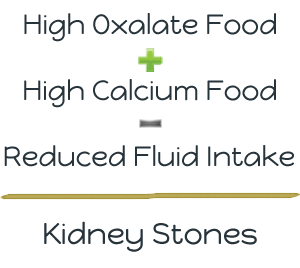 I had to test this plant to see if it really worked.
I Start Making Kidney Stones for the Sake of Science
I needed to see how well phyllanthus niruri worked, so I decide to start forming more kidney stones. Sounds crazy, right? A little, but it worked. I found out how much of the herb I had to brew to get the best benefit. I went back to eating whatever I wanted.
For my efforts, I was rewarded with many more kidney stones. I would brew a gallon of this 'tea', drink it for a few days, and the pain would vanish along with the stones. Now, instead of being kidney stone and pain free for a few weeks, I was going for 4 months or more without pain. It was amazing how quickly the pain went away and how quickly, easily and pain-free the stones were passing.
But I wasn't as free as I wanted to be. I still had to brew the stuff and I was traveling nearly 200 days a year. I couldn't very well carry 2 liters of this tea with me everywhere I travel, especially through airport security. So started making tea bags. I brewed the stuff on trains, planes and hotel rooms. It worked okay, but the solution was less than ideal and the brewed 'tea' had a slimy consistency to it, which made it less than ideal for tea bags.
I had my solution. I just needed a perfect solution.
The Perfect Solution to Kidney Stones
I decided to create Clear Kidneys based on phyllanthus niruri, with several goals in mind:
It had to work fast
It had to be powerful
It had to be small
It could be carried anywhere and taken any time: planes, trains and automobiles
I began working with a laboratory, experimenting with various extracts of the plant. In early 2012, after a number of attempts, we created the most effective extract. Clear Kidneys is ten times more powerful than the raw plant. We tested it, tested it again, and tested it some more.
Using myself as a guinea pig, I made more kidney stones. I took Clear Kidneys with distilled water and the stones passed painlessly. We had other people try it and they were amazed at how quickly it worked. It worked even better than we expected.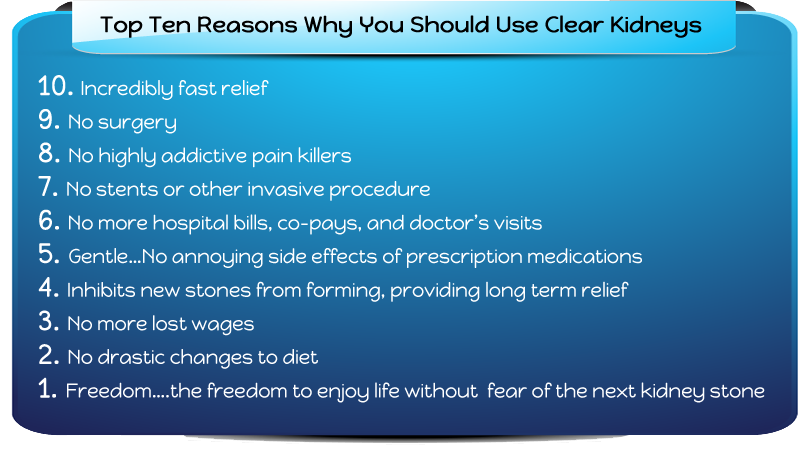 An Ounce of Prevention is Worth a Pound of Cure.

- Benjamin Franklin
Scientist, Inventor and Founding Father
…but don't just take Ben Franklin's word for it…
What the Science Says
"Smooth muscle relaxation within the urinary or biliary tract probably facilitates the expulsion of kidney or bladder calculi."

— Calixto, J. B. Antispasmodic effects of an alkaloid extracted from Phyllanthus sellowianus: a comparative study with papaverine. Braz. J. Med. Biol . Res. 1984; 17(3–4): 313–21.

"Treatment with [phyllanthus niruri] strongly inhibited the growth of the matrix calculus and reduced the number of stone satellites compared with the group receiving water."

— Freitas, A. M., et al. The effect of Phyllanthus niruri on urinary inhibitors of calcium oxalate crystallization and other factors associated with renal stone formation. B. J. U. Int. 2002; 89(9): 829–34.

"Dr. Weimann [of Nuremberg, Germany] kept careful records of all his sales [of phyllanthus niruri], and he told me that he had over a hundred case histories of this one. In ninety-four percent of these, [phyllanthus niruri] had completely eliminated the calculi within a week or two; the other six percent were people who did not keep the required promise to report results or those he had been unable to locate after they failed to show up. According to his records, not only was the herb infallibly successful in healing, but the only evidence of any side effect was an occasional case of cramps during the expulsion of stone. Dr. Weimann believed the healing to be permanent. His description of the effects of chanca peidra duplicated first-hand accounts I had received from acquaintances who had used it, and also the information given me long ago by my own Iquitos physician, Dr. Gil Villacorta. He told me he had been prescribing it for years and had never known it to fail or to cause any unpleasant side effects."

— Maxwell, Nicole, Witch-Doctor's Apprentice, Hunting for Medicinal Plants in the Amazon, 1990

"These findings extend our previous data and indicate that HE of P. urinaria and P. niruri exhibit potent systemic antinociceptive actions against two models of neurogenic pain."

— Santos, A. R., et al. Analysis of the mechanisms underlying the antinociceptive effect of the extracts of plants from the genus Phyllanthus. Gen. Pharmacol. 1995; 26(7): 1499–1506.

"These results indicate that, similar to previous reported data [...] the methanolic extracts of callus culture of P. niruri, P. corcovadensis and P. tenellus exhibit potent analgesic properties against neurogenic and inflammatory pain…"

— Santos, A. R., et al. Analgesic effects of callus culture extracts from selected species of Phyllanthus in mice. J. Pharm. Pharmacol. 1994; 46(9): 755–59.

"In addition, [phyllanthus niruri] tea consumption in the same dose by nephrolithiasis patients for a period of 3 months, led to an apparent increased elimination of calculi compared to patients drinking placebo. These results were probably ascribed to the antispasmodic and relaxant effects of Phyllanthus niruri upon ureteral muscle, facilitating calculi voiding."

— Boim, M. A., et al. Phyllanthus niruri as a Promising Alternative Treatment for Nephrolithiasis. International Brazil Journal of Urology. 2010, vol.36, n.6, pp. 661.

"Phyllanthus niruri has been shown to interfere with many stages of stone formation, reducing crystals aggregation, modifying their structure and composition as well as altering the interaction of the crystals with tubular cells leading to reduced subsequent endocytosis. The clinical beneficial effects of Phyllanthus niruri may be related to ureteral relaxation, helping to eliminate calculi or to clear fragments following lithotripsy, or also to a putative reduction of the excretion of urinary crystallization promoters such as calcium. No adverse renal, cardiovascular, neurological or toxic effects have been detected in either of these studies. Altogether, these studies suggest a preventive effect of Phyllanthus niruri in stone formation or elimination, but still longer-term randomized clinical trials are necessary to confirm its therapeutic properties."

— Boim, M. A., et al. Phyllanthus niruri as a Promising Alternative Treatment for Nephrolithiasis. International Brazil Journal of Urology. 2010, vol.36, n.6, pp. 657.

"In the test system used, the extract of Phyllanthus…showed about four times more potent activity than indomethacin and three times the strength of morphine against the second phase of pain which models the stage of "inflammatory" pain. The pain model used in these tests (formalin-induced persistent pain) appears to provide a state similar to that of post-operative pain in people…the pain blockers in Phyllanthus have been identified by the Brazilians as gallic acid, ethyl ester and the steroidal compounds as beta-sitosterol and stigmasterol."

— Jones, Kenneth. Cat's Claw: Healing Vine of Peru. 1995, p. 119.
Okay…enough science. Let's hear what regular people have to say about it.

"In February 2012, I had a kidney stone where the pain registered 10/10 on the pain scale. I wanted to die, which is a horrible thought. Rather than go to the emergency room, which really was not an option, I took Clear Kidneys every two hours with distilled water. Within 4 hours the pain was down to 6 out of 10 and my pee was slushy with stone fragments. 12 hours later the pain was 2/10, like a finger pressing lightly into my back. 18 hours after the pain started, I passed a 4mm stone. I've been taking 1 capsule every day and drinking plenty of water and haven't had a single stone ever since."
— Mark P., Newark, DE
"When I got my first stone, the pain was subtle at first, as if someone was holding a stick against the left side of my back. About an hour later the pain was much stronger and radiating to my entire abdomen. That was when I went to the hospital and was diagnosed with a kidney stone. The second time, I recognized the pain right away. I heard about Clear Kidneys from a friend and he gave me some from his personal supply and within just a few hours, the pain had subsided significantly. I kept taking one capsule before meals for about a week, but I have to say that by the following day, I practically had no pain at all. No more kidney stones for me, thanks to Clear Kidneys!"
— Cynthia S., Miami Beach, FL
"…the most effective remedy for kidney stones and ureter spasms that your money can buy!"
— Jane, Dallas, TX, via Earth Clinic
"I've had several bouts with kidney stones and went through all of the traditional therapies and treatments, including surgery. Nothing helped and I was left with an extremely large stone that was too large to pass. I did some research and discovered [phyllanthus niruri], so I ordered some. A couple months after [taking it], my monster stone started moving again. I dreaded the pain I knew would accompany this process and the medical bills we would be facing for treatment. To my surprise, after a few days of mild discomfort, I actually passed the stone that was 'too large to pass!!' Moreover, it passed painlessly and my discomfort immediately ended. This stuff is great! I wish I had known about it years ago, as I could have saved a lot of money and avoided some horrific pain. It's the best medical investment I've ever made."
— C. Young, Summerville, SC, via Earth Clinic
"3 months ago I had to go by ambulance to the hospital because I had a 6mm stone stuck 1 inch above the bladder. The 3 stones have been in my kidneys for 6 years now and they were 9mm 6mm and 4mm. … I started taking [phyllanthus niruri] 3 times a day and when I went back to the doctor 3 months later as that is how long it took to get in to see the doctor the x-ray showed nothing was there. So the doctor ordered […]a cat scan this time as it is more accurate. I went today and the results were the 6mm is gone and the 9mm and 4mm that were left in the kidneys are now only a few pieces that are 2-3mm in size. This worked better than I ever thought it would as I was just hoping it would get rid of the one 6mm stuck just outside the bladder. I am going to order more and take it for the next year as that is when I am to go back to the doctor and see if it gets rid of the 2-3mm pieces that are left. I would recommend this product to anyone with kidney stones and if you don't see results at first just keep taking it as it may take longer for different people as there stones may be different."
— Ians5744, via WebMD.com
Is there anyone who should not take Clear Kidneys?
Clear Kidneys should not be taken by:
Women who are trying to become pregnant
Women who are pregnant
Women who are nursing
Children
Check with your doctor before taking Clear Kidneys or any other supplement if you are diabetic or are taking any beta-blocker drugs for high blood pressure as it has a mild hypoglycemic and hypotensive effect.
Clear Kidneys is the Cheapest Long Term Solution For Pain Relief and Elimination of Kidney Stones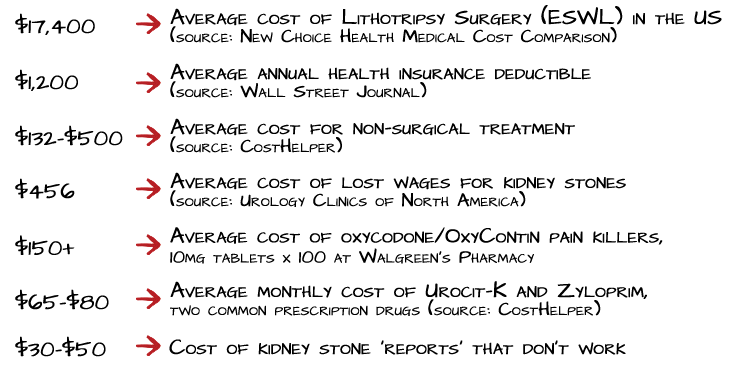 Cost of Clear Kidneys: 38-77 cents per day, cheaper than a cup of coffee!
Value of your freedom from pain = Priceless
How much would you pay for your freedom from kidney stones? The beauty of Clear Kidneys is that you can take it and go. It puts you back on your feet, back in the game, and back into the land of the living.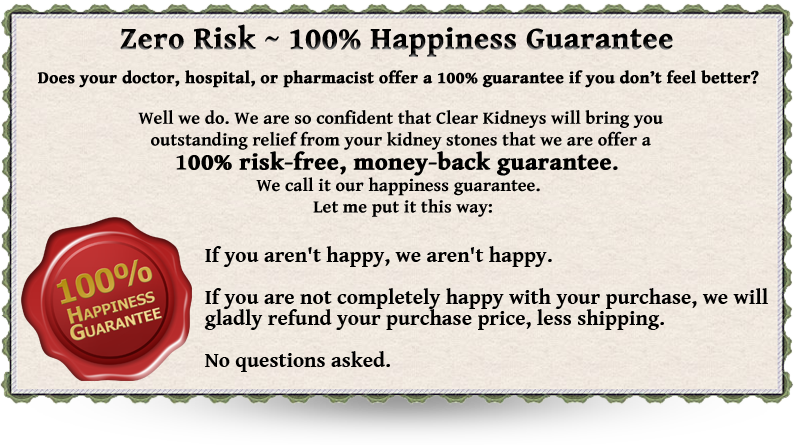 As a free bonus for ordering today,
I will send you:
The Kidney Stone Prevention Guide –

Expert advice for preventing kidney stones from the leading authorities on the subject.

Kidney Stone Home Remedies –

These remedies don't hold a candle to the power of Clear Kidneys, so I am confident in sharing all of the home remedies available in those 'special reports'.

The Oxalate Food Guide –

A comprehensive list of foods and their oxalate content, including what never to eat if you have calcium oxalate stones.
Enjoy Freedom from Kidney Stones
If you are sitting reading this, in excruciating pain, laid up in bed or on the couch, and heavily medicated, I am telling you that you don't have to suffer any more.
Are you ready to start living a life free from kidney stones?
Clear Kidneys will give you all of these benefits and more:
No more pain from kidney stones.
A reduction in the frequency of kidney stones with regular use.
Say hello to unprecedented pain relief, with no nasty side effects, no drowsiness, and no addiction.
Say goodbye to surgery, catheters, stents, lasers, probing devices, the hospital, clinics….and maybe your urologist, too!
Eliminate kidney stones and continue to eat the foods you love.
Gentle and safe.
Clear kidneys is 100% all-natural and vegan. It is free from sugar, gluten, wheat, soy, corn, dairy, starch, yeast, and fillers.
No drastic changes in diet are required!
Never miss another important event.
Reclaim your life and your freedom.
And don't forget the FREE bonuses when you order: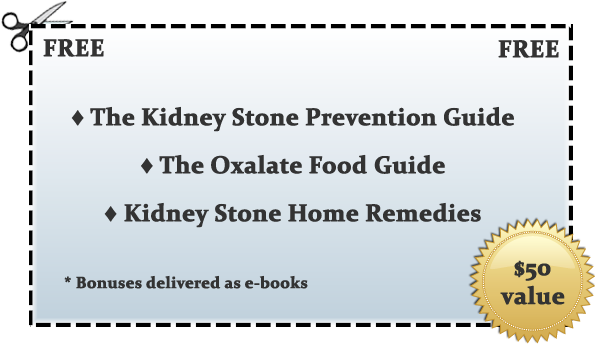 Order Clear Kidneys Today!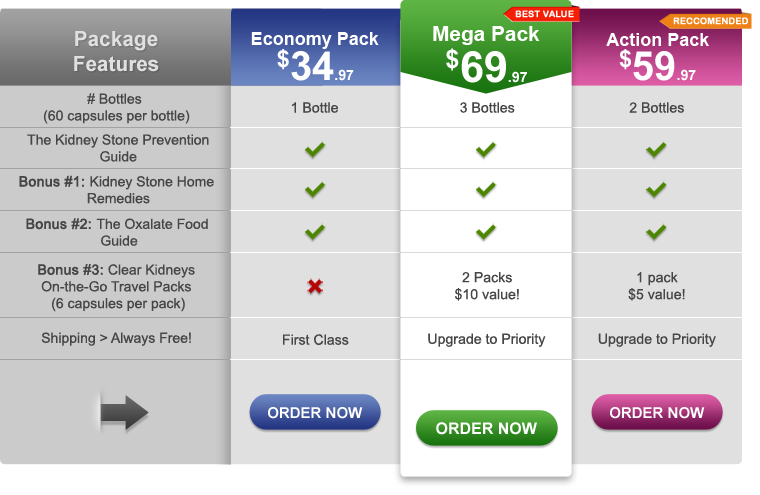 P.S. Clear Kidneys is so incredibly powerful against kidney stones, it will astound you, I guarantee it. You will be free from the grip of fear and pain that kidney stones bring, to live life the way you want. Order Clear Kidneys and begin now.