Hello and welcome to the Clear Kidneys blog! After nearly 18 months of planning, developing, and testing, I am very happy to announce the launch of Hot Sun Labs flagship product, Clear Kidneys™.  If you haven't read about it yet, Clear Kidneys is a nutraceutical supplement designed to help provide nearly instant relief from kidney stone pain and provide long term relief. ** As a chronic sufferer of kidney stones, thanks to a little birth defect known as medullary sponge kidney, or MSK for short, I have been searching for the best ways to prevent and eliminate kidney stones that didn't involve my doctor. Essentially I have a kidney stone factory in my right kidney.  I have tried home remedies, changes in diet, and herbal cocktails to keep them away, all to no avail. About 8 years ago I discovered Phyllanthus niruri, also know commonly as chanca piedra, quebra pedra, stone breaker, and bhumy amalaki. It is commonly brewed as a tea or ground up and encapsulated.  When I first started using it, I was amazed at how well it worked. * This is what I experienced whenever I used it:
Pain relief within 1-2 hours
Stones, gravel, and sand passing without pain
Longer term relief…the longer I used it, the fewer and fewer stones I would get
The main problem with this solution was that it wasn't very portable.  I travel frequently by trains, planes, and automobiles (and the occasional bus), and brewing a cup of this tea while driving down the highway isn't exactly ideal.  The problem with capsules is that I sometimes had to 3-4 capsules at a time. So I decided to create the ideal solution: Clear Kidneys.  It is a high quality custom Phyllanthus niruri extract designed for the relief of kidney stones.  It provides the following benefits:
Quick pain relief caused by kidney stones
Dissolves and eliminates stones
Inhibits the formation of new stones
It is highly portable and works incredibly fast
Thanks to a special extraction process, Clear Kidneys is 10 times more powerful than regular Phyllanthus niruri.  Each bottle is equivalent to 210 grams, or 7.4 ounces of the dried plant.  This is an incredible value that can't be beat. And speaking of incredible values, I love a good deal and I love coupons.  So, just for reading this blog post, I'll give you a coupon worth 15%-off your first order.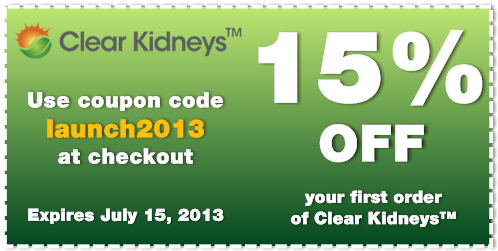 (You don't have to print and send it to us. 🙂 ).  Just use coupon code launch2013 during checkout and you discount will be automatically applied to your order.  And we always have free shipping on every order. This coupon expires July 15th, 2013, so don't wait!

This blog will provide articles relating to kidney health, stone prevention, and of course product information. ** Whether or not you use our products, we want our site visitors to have happier and healthier lives. Wishing you the best of health,

Mark Pescatrice Founder, Hot Sun Labs, LLC Creator of Clear Kidneys™

~ + ~

P.S. – As I mentioned above, I love a good deal.  Subscribe to this blog and I will periodically send you discount and free offers via email. P.P.S. – I hate spam.  I take your privacy very seriously, so here is my promise to you: we will never, ever sell, rent, or give away your email address.  Period.